SCIS Receives 2020 HIRE Vets Platinum Medallion Award from U.S. Department of Labor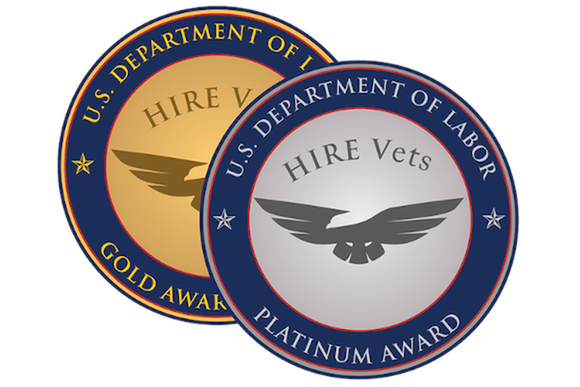 U.S. Secretary of Labor Eugene Scalia recognized SCIS as one of the 675 recipients of the 2020 HIRE Vets Medallion Award during an award ceremony at the U.S. Department of Labor. SCIS earned the PLATINUM Award after applying earlier this year. The Honoring Investments in Recruiting and Employing American Military Veterans Act (HIRE Vets Act) Medallion Program is the only federal award program recognizing job creators who successfully recruit, hire, and retain Veterans.
"This is thrill and honored to be recognized as one of the 2020 Hire Vets award from the Department of Labor", said SCIS President/CEO Brian Jaskiewicz. "As a Service-Disabled Veteran Owned Small Business, we thought it would be appropriate to apply for this award so as to validate our emphasis on recruiting, hiring, and developing Veterans. We're proud to support our Veterans careers and to have so many SCIS Team Members who volunteered to serve our Nation. We've worked hard recruiting and hiring the best and brightest Team of both Veterans and non-Veterans who every day demonstrate SCIS has the people, solutions making a difference."
SCIS joins 674 other companies from 49 states, plus the District of Columbia, who have shown a commitment to hiring veterans, but also ensuring that they have a long-term career and growth plan that uses the diverse skills they acquired through their military service.
The HIRE Vets Medallion Award is based on a number of criteria, ranging from veteran hiring and retention to providing veteran-specific resources, leadership programming, dedicated human resources, and compensation and tuition assistance programs – with requirements varying for large, medium, and small employers.
SCIS provides our Mission Partners with a wide array of engineering services, including full life cycle hardware and software development, specialized communication and threat training systems, and focused research and development projects designed to offer inventive solutions. SCIS engineering expertise spans mission-critical software development, tactical encrypted communication solutions, Man-portable Air Defense System training systems, and novel sensor networks. We are committed to hiring and retaining a diverse workforce. We are proud to be an Equal Opportunity/Affirmative Action Employer, making decisions without regard to race, color, religion, creed, sex, sexual orientation, gender identity, marital status, national origin, age, veteran status, disability, or any other protected class.