SCIS Selected as a 2020 GrowFL 50 Companies to Watch Honoree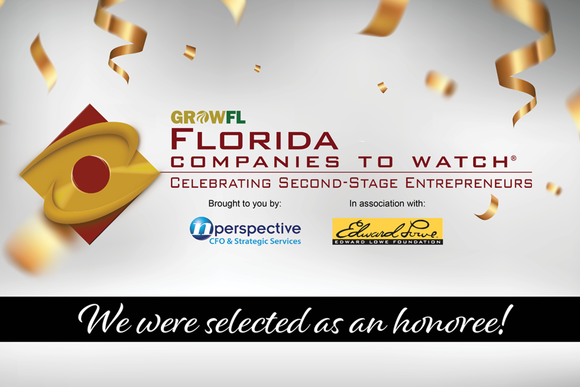 Space Coast Intelligent Solutions, Inc. (SCIS) is pleased to be among the top 50 second-stage companies in Florida selected as a 2020 GrowFL Florida Companies to Watch honorees, a statewide competition that identifies companies expected to see significant growth over the next several years. The 2020 GrowFL Florida Companies to Watch awards celebration is brought to you by Nperspective CFO & Strategic Services, in association with the Edward Lowe Foundation.
Companies to Watch was developed by the Edward Lowe Foundation as a unique way to recognize and honor second-stage companies demonstrating high performance in the marketplace with innovative strategies and processes, making them "worth watching." GrowFL received more than 400 nominations for the award this year.
82 finalists were announced earlier this year, and the 50 honorees were selected after a final round of judging by a panel of independent judges comprised of past honorees, economic development leaders and corporate partners of GrowFL. Companies were judged on a number of criteria including: growth in number of employees; impact of the business in the job market; increase in sales and/or unit volume; current and past financial reports; innovativeness of the product or service; response to adversity; and contributions to aid community-oriented projects.
"These stand-out companies are all led by entrepreneurs, and have demonstrated not only their willingness to grow, but their capacity to do it successfully," said Dr. Tom O'Neal, GrowFL Founder. "They are all positioned to make a significant impact on Florida's economy with their products, services, critical intellectual property or a niche position that gives them a competitive edge in their markets. These business owners demonstrate strong leadership, philanthropic involvement, perseverance and all it means to be an entrepreneur."
"SCIS is honored to be one of the 50 2020 GrowFL Companies to Watch honorees," said SCIS President/CEO Brian Jaskiewicz. "Being an honoree is a direct reflection of all the hard work, support, and dedication our Team has continuously provided to our Mission Partners. I'd also like to congratulated the other 49 honorees and those from here in Brevard County included: Artemis IT; Rock Paper Simple; Entech Innovative Engineering; and Met-Con, Inc."
SCIS will be officially recognized at the 10th Annual GrowFL Florida Companies to Watch Celebration on February 18, 2021 at the Hammock Beach Resort and Spa in Palm Coast, FL. The event will also be broadcast live. Tickets are on sale now. For more information or to purchase tickets, visit https://www.growfl.com/flctw20/about-flctw/