Space Coast Veteran is Awarded Daughters of the American Revolution Medal of Honor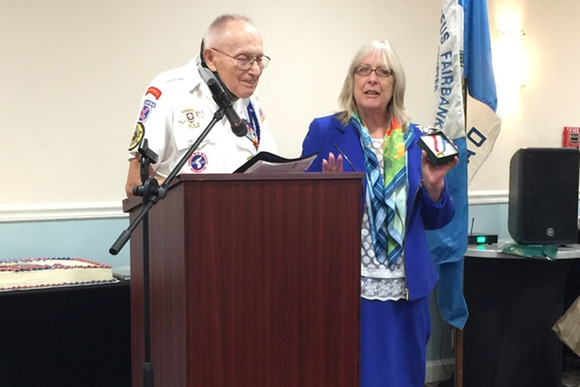 On Saturday, November 2nd, Mr. Brian Jaskiewicz, SCIS President & CEO, had the honor of attending a luncheon hosted by the Satellite Beach, Rufus Fairbanks Chapter of the Daughters of the American Revolution (DAR). As part of the DAR program, Major George Rosenfield, U.S. Army (Retired), received the DAR Medal of Honor. It's the organization's highest award and is presented to native-born American citizens for outstanding contributions to the nation. Major Rosenfield told the audience about his World War II experiences as a draftee who trained as part of a Unit called the U.S. Army Ski Troops, who later became the 10th Mountain Division. As an enlisted Soldier assigned to the 85th Infantry Regiment in World War II, Rosenfield participated in numerous operations including the attack on German Forces who were heavily entrenched on Monte Belvedere and along the ridgeline dominating the Reno River Valley. These German positions were, in turn, defended by positions on Riva Ridge, whose slopes rose to fifteen hundred meters above the valley floor. In the cover of darkness on the bitter cold morning of February 18th, 1945, the Ski Troops ascended the steep slopes and reached the summit. After multiple assaults on Monte Belvedere, the Ski Troops carried the ridge and allowed the Allies to move into the Po Valley, the decisive strike which won the war in Italy. This successful climb and assault, called Operation Encore, later became known as the "Climb to Glory". After his honorable service in World War II, Rosenfield earned his Bachelor's degree as part of an ROTC program and was then commissioned as an Army Officer. He yet again served his country in the Korean War and afterwards as an Engineer for the U.S. Government. Major Rosenfield is most deserving of the DAR Medal of Honor for all his sacrifices and service to our great Nation.
Major Rosenfield is presented the DAR Medal of Honor by the Rufus Fairbanks Regent, Ms. Bonnie Charles.