SCIS Signs Statement Supporting Guard and Reserve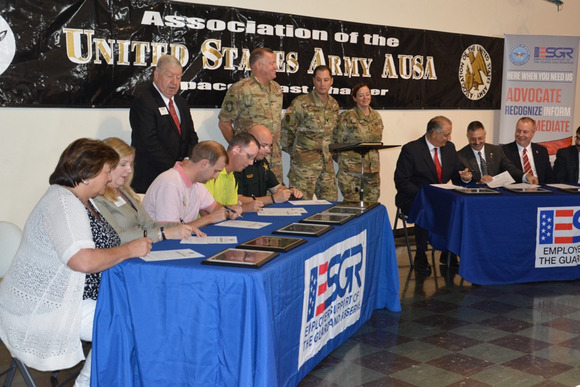 MELBOURNE, Fla.--
SCIS participated as a signatory in the Association of the United States Army – Space Coast Chapter signing event for the Employers Support of the Guard and Reserve. The event was hosted by Bansbach Easylift of North America, Inc. on Sept. 20.
The Statement of Support signing was attended by all four of Brevard County's regional Chambers of Commerce, representing businesses throughout Brevard County. Also present was the Brevard County Sheriff's Office representing public safety government agencies and several local businesses that are Community Partners of AUSA.
"This is not window dressing," said retired U.S. Army colonel Phil LoSchiavo, president of the AUSA Space Coast Chapter. "Most of these employers have an intimate relationship with the U.S. military and many are members of AUSA. We greatly appreciate their commitment."
The Statement of Support is a formal document signed by employing entities. Signatories pledge their support of the armed services, and more importantly, to their employees who volunteer talents and time in the National Guard and Reserve components.
The recent impact of, and today's on-going response to, the devastation brought by Hurricane Florence is one of the most demonstrable examples of the importance of Guardsman and Reservists. Without their skills, equipment and resources, many local response operations would collapse under the weight of such a catastrophe.
"SCIS is honored to continue our support to all military services, veterans, and their families by signing the statement of support," said Brian Jaskiewicz, SCIS CEO. "The brave men and women who are our citizen service members are a major portion of the force who daily protect our freedom. We all need to support them and thank them for their sacrifices."