Space Coast Chapter of the Association of the United States Army (AUSA) presents 3rd Region Award to SCIS President/CEO Brian Jaskiewicz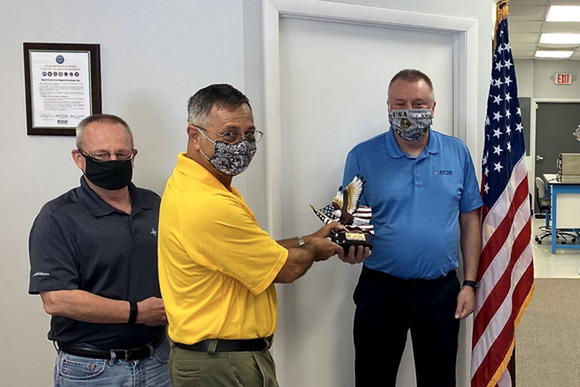 Space Coast Chapter of AUSA President, US Army, Colonel, Retired, Phil Loshiavo presents SCIS President/CEO Brian Jaskiewicz with the AUSA 3rd Region Significant Achievement Award.The award is given to highlight the support a local Chapter member provides to the Chapter and the Soldiers, their families, and Veterans within the 3rd Region and with the Space Coast Chapter's area of responsibility.
Mr. Jaskiewicz, a retired Army Master Sergeant, was very surprised and grateful to receive this award. He said, "Receiving this award is a great honor. I really enjoy continuing what I did on active duty as a Senior Non-Commissioned Officer, taking care of Soldiers and their families. Being retired from the Army, the Space Coast Chapter of AUSA provides me an opportunity to give back to the Army by supporting our local high school Junior ROTC programs, college ROTC programs, local Army Recruiters, and our Active, Guard, and Reserve Soldiers."
To learn more about the activities of AUSA, the Space Coast Chapter, and to become a Corporate or Individual member, visit their website at https://www.ausa.org/chapters/space-coast-chapter.